The family takes a vacation to Six Flags Mountain and Hurricane Harbor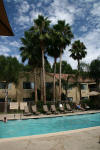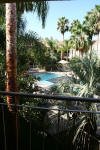 We took off on Sunday, July 23rd for Valencia, California, which is a little bit north of Los Angeles to take in a couple of days of amusement park fun at Six Flags Magic Mountain and it's companion water park, Hurricane Harbor. Just a few weeks earlier, we had done a camping vacation, so this was a rather quick turn around for another trip, but between my work schedule, the boy's upcoming Hockey Camp and school starting again soon this was the time to do it. Our home away from home the next few days was the Hilton Hotel about a mile away from the park. Note: This vacation is a lot closer to Casey's version of "camping" than mine :-)
We have a pool in our cul-del-sac at home, but somebody else's pool always seems to be more fun. The boys wasted no time in getting down to the pool and having fun. Here are some scenes from our first day hanging out by the pool.
Monday, July 24th - Six Flags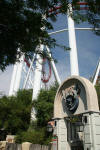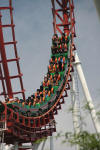 It was extremely hot on Monday. The entire country was in the middle of a heat wave which combined with the normally hot temperatures in Valencia made it was absolutely blistering at the park by noon. I believe I heard some mention something like 111 degrees on the news later that evening. Will's breakfast did not agree with him that day and combined with the heat and the "Viper" Will was down for the count early on at the park. The Viper is the world's largest looping roller coaster with the tallest at 140 feet. Having spent the best part of my 20 years in the Navy on ships I should not have been bothered too much by a little motion, but even I was a little light headed and wobbly coming off of this ride. It was great!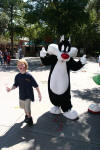 Jake was not quite tall enough to ride the Viper, so while Casey keep Will company (while we hoped he would get to feeling better), Jake and I went off to ride the "X" The X was the first roller coaster to allow the riders to independently spin 360 degrees forwards and backwards while the ride moves in 3 dimensions. The entire vehicle flips over after the first climb while simultaneously dropping straight down 200 feet, all while you are dangling below the vehicle traveling at 76 mph. It was pretty amazing and I wish I could have gotten a picture of the thrill on Jake's face. There was a price to pay for this ride, as it was nearly a two-hour wait to get on the ride. After meeting back up with Casey and Will, Will was not feeling any better so we decided to pull the plug on the park. It was simply too hot to hang out in the park. On the way out Casey decided to do the Viper and I caught a picture of here in the loop pictured above. She is in the 4th row from the back, left-hand side.


Sometimes Casey and I think Jake is growing up too fast by having an older brother and all the boys in the neighborhood being at least Will's age. So it was quite cute when Jake wanted to do the Merry-Go-Round on the way out of the park. I was more than happy go along with the little guy.
Back at the hotel we cooled off from the heat by staying in the pool. While down at the pool we decided that Tuesday would be too soon to come home so we decided to stay until Wednesday.
Tuesday, July 25th- Hang Out Day
It was still so amazingly hot that we decided that even at a water park it would still be too darn hot out to be outside. So instead of Hurricane Harbor, we opted to mostly hang out at the hotel. We leisurely got around that day and got a late breakfast/early lunch before heading off to a theater to catch a movie. That evening after a very relaxing day of just hanging out Casey and I decided that Wednesday would also be too soon to come home so we made arrangements to stay until Thursday.

Jake has gotten into a habit of make super silly faces whenever I try to take a picture of him forcing me to sneak up on him and catch him acting normal. Most of them end up deleted, but I'm going to save some of them, like this one, so that I can show them to his potential girlfriends some day.
Wednesday, July 26th - Hurricane Harbor
After a somewhat leisurely start to the day, we were out to Hurricane Harbor where we had a full day of fun. The heat had subsided a little with temperatures only in the low 90s. This was quite descent considering we were at a water park.
Here is Casey coming out on one of the curvy water slides at Reptile Ridge.
We rode pretty much all of the rides. Since my camera and water are not exactly a good mix, it spent all of the time we were on the rides locked away in a locker. I did go back and take some pictures of the rides to help describe them.




One of the family ride we did was a large tube raft ride took you down a series of curvy turns on a "super-sized" slide. Above are pictures of the bottom of the ride. The top starts about 200 feet above this spot.
One of the other family rides we did was the Toronado. The Toronado is a six-story funnel that drops the riders from 75 feet in the air, banking back and forth down a 132-foot-long tunnel before dumping your 4-person cloverleaf shaped raft into a pool at the end of the funnel. The picture in the middle above is a paste of five pictures showing the general path of the raft on just one side of the funnel. You slide up the other side of the funnel just as far. We enjoyed this ride so much that we did it three times.
We spent a little bit of time at the Forgotten Sea wave pool, which recreates ocean waves in a really big pool. The big difference here in the pool is that there is a wave every couple of seconds which means you can get tossed around pretty darn easily, but it is heck of a lot of fun. On this day there were enough Mexicans in this pool that I thought there might have been a diving for green cards contest going on or something.
Will and I opted to do some of the larger slides, one of which was the Venom drop from Black Snake Summit. It is a 300 ft open water slide that is quite a rush. Will showed me the way down. You are going fast enough that at the bottom you actually skip across the water a few time before coming to a stop.
Here is Will coming out of the water tunnel slide at Reptile Ridge.

Here is Jake coming down the same tunnel slide. I was able to get a better sequence of shots than I did with Will.
We spent the latter bit of the evening until about 7PM hanging out at the pools in Reptile Ridge. Here are some pictures of Casey and boys messing around
Here are some artsy-fartsy shots taken at the Castaway Cove.
We were pretty wiped from all of the day's fun so we splurged and ordered in room service which the boys thought was pretty darn cool (Even though the food was not all that good). We were zonked at a fairly descent time and got up and around the next morning and made our way back home. We even managed to make it through LA with barely a slowdown.
This was an exceptionally good trip that allowed us to get in some good bonding time as a family. We are going to have to start doing more family trips.